Water Filter Installation in New York
Install water treatment system to protect your family, the environment, and your pocketbook. High Water Standard offers comprehensive water treatment services:
we can install water filters, repair, and maintain them. We provide water filter installation service in the greater New York City area.
Water Filter Installation Recommended by Environmental Working Group
Interested in a water filtration
system installation?
High Water Standard offers
free consultations.
Schedule yours by clicking the link below:
According to the 2017 Environmental Working Group (EWG) report on public tap water, New York water tested above the national average for six dangerous chemicals including:
Bromodichloromethane
Chloroform
Chromium (hexavalent)
Dichloroacetic Acid
Total trihalomethanes (TTHMs)
Trichloroacetic Acid
Each of these chemicals is known to cause cancer in humans. And this list doesn't even take into account the other harmful Nitrates and Chlorates that the EWG found in New York's water supply.
These contaminates enter the water supply in a number of ways:
Water Treatment Centers Add Chemicals
Chemical Run off From Industry Ends Up in Water Beds
Fertilizers, Pet Waste, and Cleaning Products Seep into the Water Table
All of these chemicals find their way into streams, reservoirs, and then ultimately into your home. So, what can you do to protect yourself? In their report, the EWG recommends finding a good water filter system for home to remove dangerous chemicals from your drinking water.
We have already discussed the disturbing EWG report findings about New York's tap water. So, you already know that filtered water is healthier for you than tap water. But, have you considered the environmental and financial benefits of a water filtration system? Here are 3 ways that a water filter installation will improve your daily life:
Bonus Benefit: Your cooking will improve! Clean, fresh, chemical-free water is not only for drinking, it's also great for cooking. Try pasta or rice cooked in filtered water and you will really taste the difference!
Experience a Higher Water
Standard for Yourself
We improve lives by improving water. With our custom water treatment
services, you save on the important things – time, money, and health – so you
can live better, work better, and feel better.
We go out of our way to ensure that your water treatment system functions properly because we believe that you deserve clean water. But the benefits of a good water filtration system are not limited to your personal health.
Contact High Water Standard today to get the best water treatment system cost!
The best water filtration system for you depends on a number of factors such as your location and personal needs. Fortunately, High Water Standard carries a wide range of water filters, so we can always find the right solution for you. The most basic water filtration system uses activated carbon to screen out sediments and other contaminants. You get better quality than bottled water but in a much greener, more convenient way. Right from your tap!
Most commonly, this type of system is called a reverse osmosis water filter. Basically, reverse osmosis systems work by pushing tap water through a membrane that traps any chemicals larger than a water molecule. This effectively eliminates potentially harmful chemicals like chlorine, fluoride, arsenic, lead, cadmium and iron from your drinking water.
Everyone has unique water needs, based on your location, the source of your public water, local environment, and personal health. With a custom system, you get water filtration that is specifically designed for your home or office. First, we analyze your water to identify any problem areas. Such a test rates your water's levels of:
Based on the findings of our test, we design a water filter to remove all harmful contaminants. This could include a reverse osmosis system, activated carbon filter, or both. Also, an important difference between a custom system and a multi-level system is the ability to add healthy minerals to your water. We will access your personal water needs, and use mineral additives to address any concerns. For example, if you know that you have a zinc deficiency, we can design a filter that adds safe amounts of zinc to your water to help boost your zinc levels naturally.
We are water filter experts. And we don't say that lightly. In our 15 years of business, we have satisfied thousands of customers, by providing them with clean, safe drinking water. And, our team of service technicians can do the same for you. We can install, repair, and perform maintenance on any water treatment system, even if your filter was installed by another company.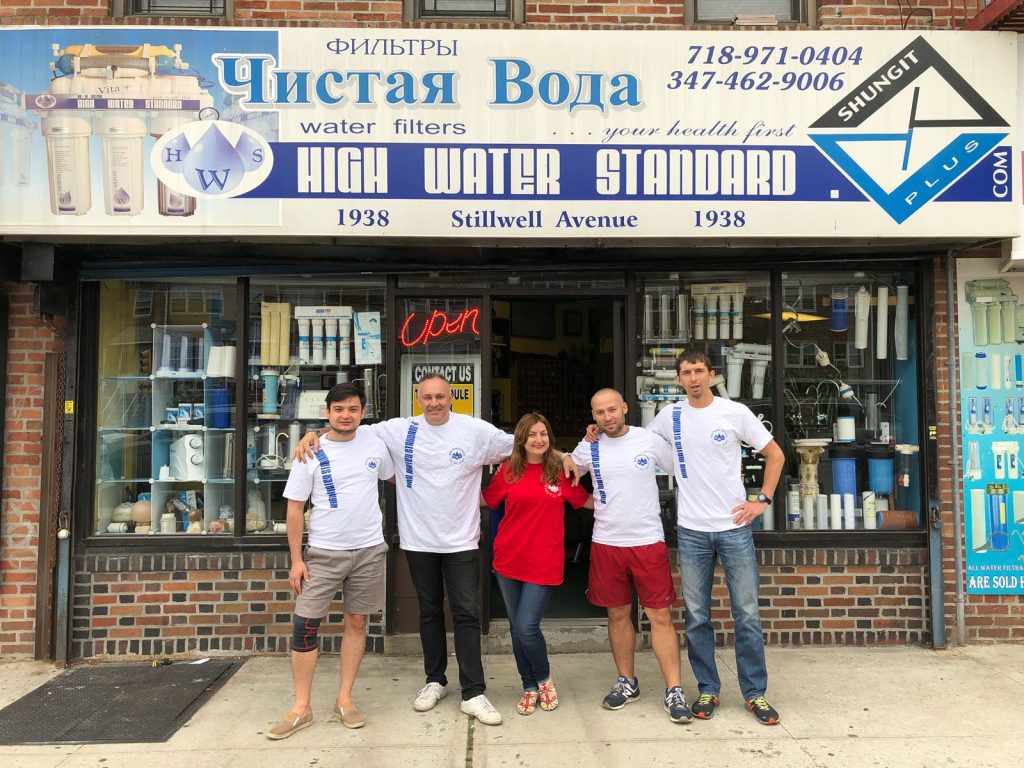 Of course, there are many water filtration system companies in New York. But we are the only one that combines experience and expertise with thoughtful, personal care. We offer all our customers:
A 3-Month Money Back Guarantee On All Water Filtering Systems
A 3-Year Parts Warranty On All Installations and Parts
24/7 Emergency Service
Customized Water Filter Systems for Homes By Zip Code
Service to All 5 Burroughs, North New Jersey, Upstate, and Long Island
Types of Water Filters We Work With
All makes, All models, All manufacturers
We can install any type filter in any location. Here are some of the options we offer:
We not only install but also service and repair all of the above systems, even if your filterwas installed by another company.
Water filters can be installed in a number of places in your home. They are:
Whole House Water Filter Installation – installs on your main water line and filters all water before it enters your home
Under Sink Water Treatment Systems Installation – installs under your kitchen sink, and filters water before it enters your tap
Countertop Water Filtration System Installation – installs as a separate tap on your countertop for filtered water on-demand
In Water Cooler Installation – installs inside your refrigerator for convenient, cold, filtered water anytime
The best location for your water filter system will depend on the type of filter you choose and your usage demands. We work with both commercial and residential water treatment systems.
If you are unsure which water filtration system is right for you, we offer free professional consultations to help determine your best option. Just click the link below to schedule your free consultation and move one step closer to clean, safe, filtered water.
Maybe you are skeptical, thinking that New York water can't be that bad. Sure, the chemical levels are not technically illegal by federal standards, but that doesn't make them safe. Cigarettes are legal. Alcohol is legal. Small amounts of cancer causing chemicals in tap water are legal. But, is this really something you want to leave to chance? Even when there is a simple, affordable solution?
If the health of your family, the environment, and your finances is important to you, then consider a water treatment system from High Water Standard. For the price of a year's supply of bottled water, you can have clean, filtered water in your home all the time. Our water filter installation service takes as little as two to three hours and can provide a lifetime of enjoyment and peace of mind.
And remember, we offer a 3-month money back guarantee on all our systems – no questions asked. You really have nothing to lose – except those chemicals from your current tap water.
0
Gallons of Water Filtered